Moving with MobileHomeMovers.com
Jessica, a shipper on MobileHomeMovers.com posted clear photos of their office trailers on our Marketplace. They also included the length, width and height of the office trailers as well as the origin and destination of the office trailers. She was in urgent need to move her office trailers within the shortest time to resume her work. Not long after posting and giving descriptions of her office trailers, she started receiving notifications from various movers near her bidding to move her office trailers. She discussed with several movers on how they would safely move their office trailers from St Joseph to McLeansboro, Illinois within a short period of time. After comparing prices, reviews and ratings from different movers, she hired HeavyHaulers.com. This was one of the well rated movers with unmatched prices and had more than enough resources to move her office trailers.

Heavy Haulers |Top Rated Movers
All the movers at MobileHomeMovers.com are well rated and verified as suitable to move your mobile home or office. For any mover joining MobileHomeMovers.com, they have to be approved as licensed and capable of moving different mobile homes or offices. HeavyHaulers.com is one of the most experienced movers on our site. From shipping double wide and Triple wide mobile homes to shipping office trailers across the country. HeavyHaulers.com is licensed to move mobile homes and offices across the country. They have enough resources and manpower to make your mobile home or office move successful. Before hiring a mover, we encourage you to read our MobileHomeMover.com guidebook. It is here that you get to learn all the steps involved during your mobile home or office move. Also, you get to learn how to choose the best movers as well as how to prepare for your mobile home or office move.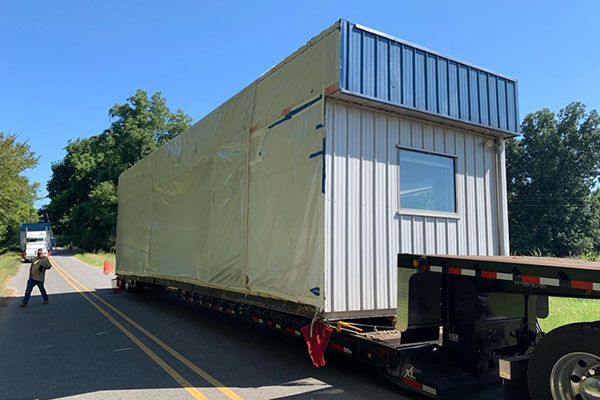 How to Move an Office Trailer?
When moving Jessica's office trailers, Heavy Hauler's team assessed the size of the office trailer and decided it was only possible to move it by splitting it into two. Then, they carefully inspected the entire office trailer noting down all the dents it could have on their checklist. This is the same list that would be used on arrival to confirm everything was still the same as the time of pick up. Jessica had already removed all loose items from the office trailers and packed them to be shipped separately. There was nothing in the office trailers that could shake and cause unbalancing while in transit. And neither was there anything that could break or be damaged. After confirming nothing would be damaged on the inside, the two separated office trailers were properly wrapped to avoid any dents along the way. Then, professionals at Heavy Haulers used cranes to load the two office trailers on two separate double drop deck trailers. Jessica's office trailers were then moved to McLeansboro safely and within the agreed upon deadline. To set up her office trailers back to its original structure, she hired service providers from MobileHomeMovers.com service page.